THE VITAL DIFFERENCE
The founders saw a problem with the IT scene right from the start. The break-fix model is destroying businesses. By the time a technician responds to your problem, the damage is done. Server down. Hard drive crashed. Data obliterated.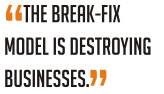 Vital solves this problem through interactive monitoring - "managed services" - that allow us to watch your network and test its integrity continuously. Yes, continuously, as in always, 24/7/365.
We save you down time by keeping everything up and running. When there's a problem brewing, we usually detect it before you do.
Imagine ... no more wondering if that backup is actually any good. No more workarounds and making do with a couple of nagging network issues. No more turning a blind eye to that noise coming from your server. PC's running ever slower? We can fix that. Can't print to the network printer? It's as good as taken care of.
Whatever the issue in your office, we'll come in, evaluate, recommend, repair, and then maintain.
Vital Technology Group. A better IT idea in today's support community. We plug in, problems go away.
Simple.